With licences to carry hazardous and special waste our transfer station can accommodate almost any type of waste. We endeavour to recycle over 85% of all material we handle.
Recycling this percentage significantly reduces the volume we send to landfill sites. Not only does this minimise the effect to our surrounding environment but also means we can offer very competitive prices, for any size skip or roll-on-off you may wish to hire due to minimal landfill cost.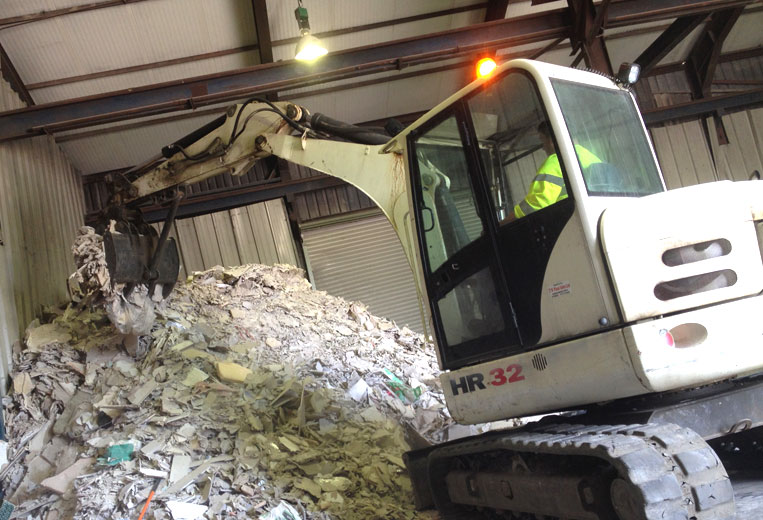 Our main goal is to make the recycling process as easy and hassle free as possible, so we take care of all the paperwork for you, from duty of care transfer notes to hazardous waste consignment notes, we make sure your waste is recycled in a legal and professional manor. We will even organise relevant permits if they are needed on your behalf. So if you're looking for the company with total commitment to the total service think Ambipar Site Services.
Recycling Drum/IBC Lab Clearances
Whether you require bulk collection or have small quantities held in IBC's, drums or laboratory bottles the company can provide safe and cost-effective collection and disposal. Where the waste requires re-packaging, re-drumming or over drumming prior to transportation, Ambipar Site Services can carry out this function on your behalf. In addition, all relevant documentation and labels will be supplied.
Land Injection
Injecting suitable organic wastes (from food, dairy and brewing etc) directly into arable land is usually a cost-effective form of disposal compared to treatment plants. These wastes are broken down in the soil to give plant nutrients. Recycling wastes in this manner can provide an economic and sustainable waste management solution. Ambipar Site Services ensures that land injection procedures are covered with all the necessary current legislation.